Download a free trial of our cd/dvd label maker software:
Our free trial allows you to try our label maker before you buy! Follow these simple instructions to get your free trial:
Download Instructions:
Step 1. Click the 'download' button below to download the trial.

- Direct Download Link (1.6MB)

Step 2. Run the setup file: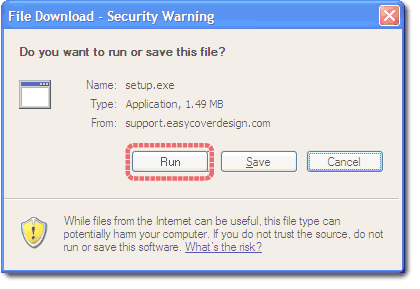 Step 4. Read the instructions provided by the setup wizard. The setup wizard will install the free trial onto your pc. Once this has finished, double click the new "Easy CD & DVD Cover Creator" icon in your program files menu to start your free trial and start printing your labels.
Step 5. After printing 10 labels the software will no longer allow you to print the labels that you design. Click the Buy Now button on the label designer screen to purchase a serial number to allow you to continue printing your labels.

---

System Requirements:
Easy CD & DVD Cover Creator will work with Windows XP, 95, 98, 2000, ME, NT, 2003 and Windows Vista. You will need a printer installed on your computer to use our software to print any labels.